July 11, 2022 – Monday Morning "Cup of Coffee"
---
Happy Monday Titan Performance Community,
Going forward we will release a Monday Morning "Cup of Coffee" blog post. Each will take less than 2 minutes to read and hopefully inspire, educate or spark some curiosity on a topic under the Health and Fitness umbrella.
This week's post is on the Nutrition Hierarchy.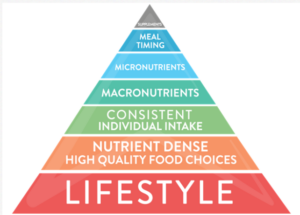 Which category do you believe you thrive in? Which one do you believe could use some work? If you could start to improve one of these areas, how would you go about doing it? 
I hope everyone has a great Monday morning and a delicious cup of coffee.
If you have any questions feel free to reach out to Coach Riley ([email protected])